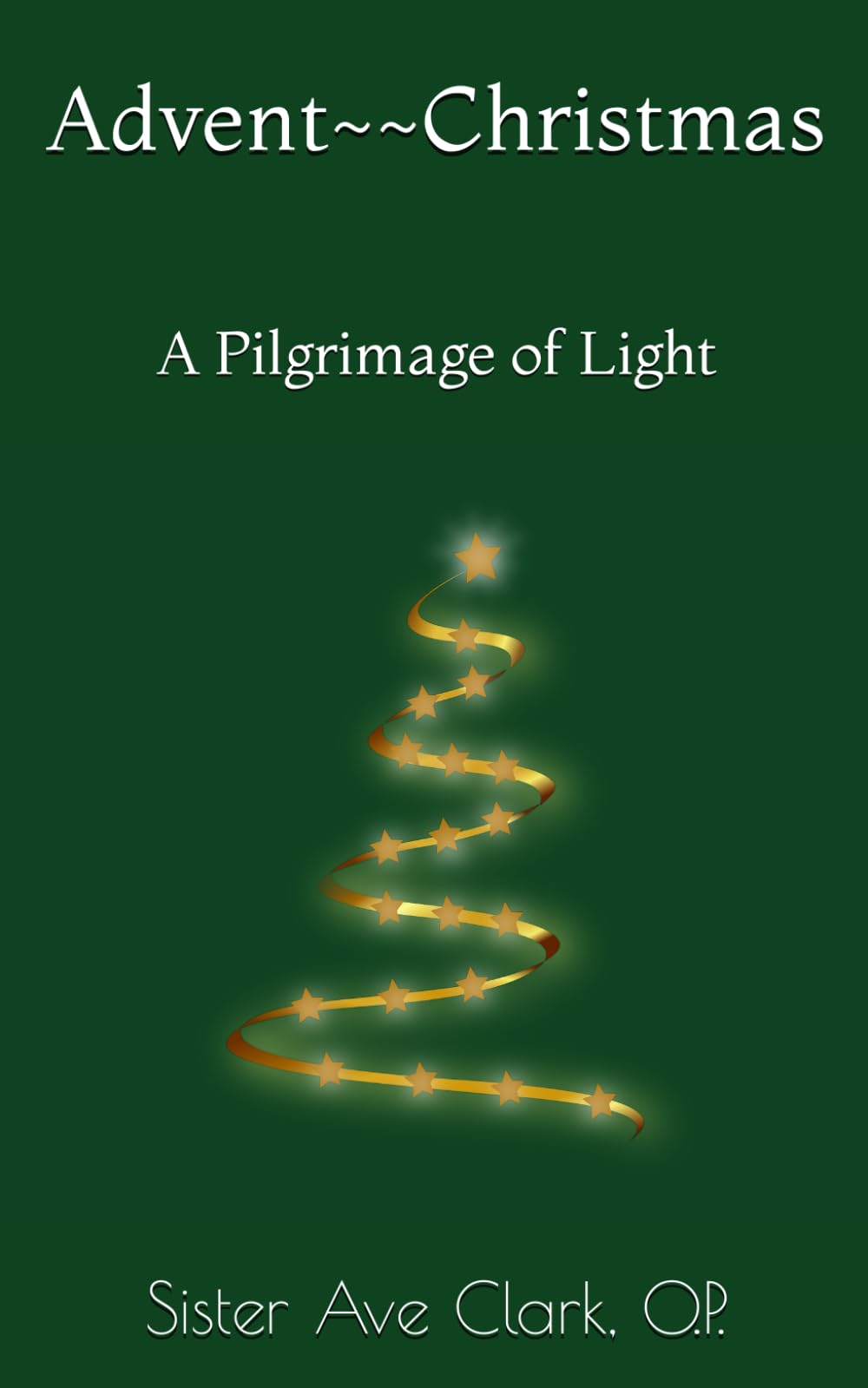 A Pilgrimage of Light
The Advent~~Christmas season is a pilgrimage of light. The lights deepens our faith journey. Each one of us during this holy season is called to celebrate the birth of Jesus reborn again and again in our lives.
This book provides a holy reflection and a meditative pilgrimage that can be taken by yourself or shared with another pilgrim companion.
Follow the Bethlehem star and you will find Christ's love just where you are.
O how will you be a Christ-Bearer of the holy lights of this Advent~~Christmas time?
Order directly from Author, instructions and mailing address below.
All books are also available for purchase directly from Author and include a holy bookmark.
For each book, please send $10.00 plus $3.50 shipping and book title to:
Sr. Ave Clark, O.P.
Heart to Heart Ministry
151-58 17th Road
Whitestone, New York. 11357
…and How We Sing It
This is a book that shares the holy melody of God's Song and how with our faith-lived well we can become a lyric of God's Song and nurture the roots of its' message with our love.
Each one of us can sing in our own way. God hears our humble tunes. Together, as we enter deeply Into the music of the universe, we can and will make this world a more compassionate, creative and melodious place for all.
What is God's Song singing to you?
How do you share God's Song?
You are the light of the world. A city set on a mountain cannot be hidden. Nor do they light a lamp and then put it under a bushel basket; it is set on a lampstand, where it gives light to all in the house. Just so, your light must shine before others, that they may see your good deeds and glorify your heavenly Father. – Matthew 5: 14-16
Order directly from Author, instructions and mailing address above.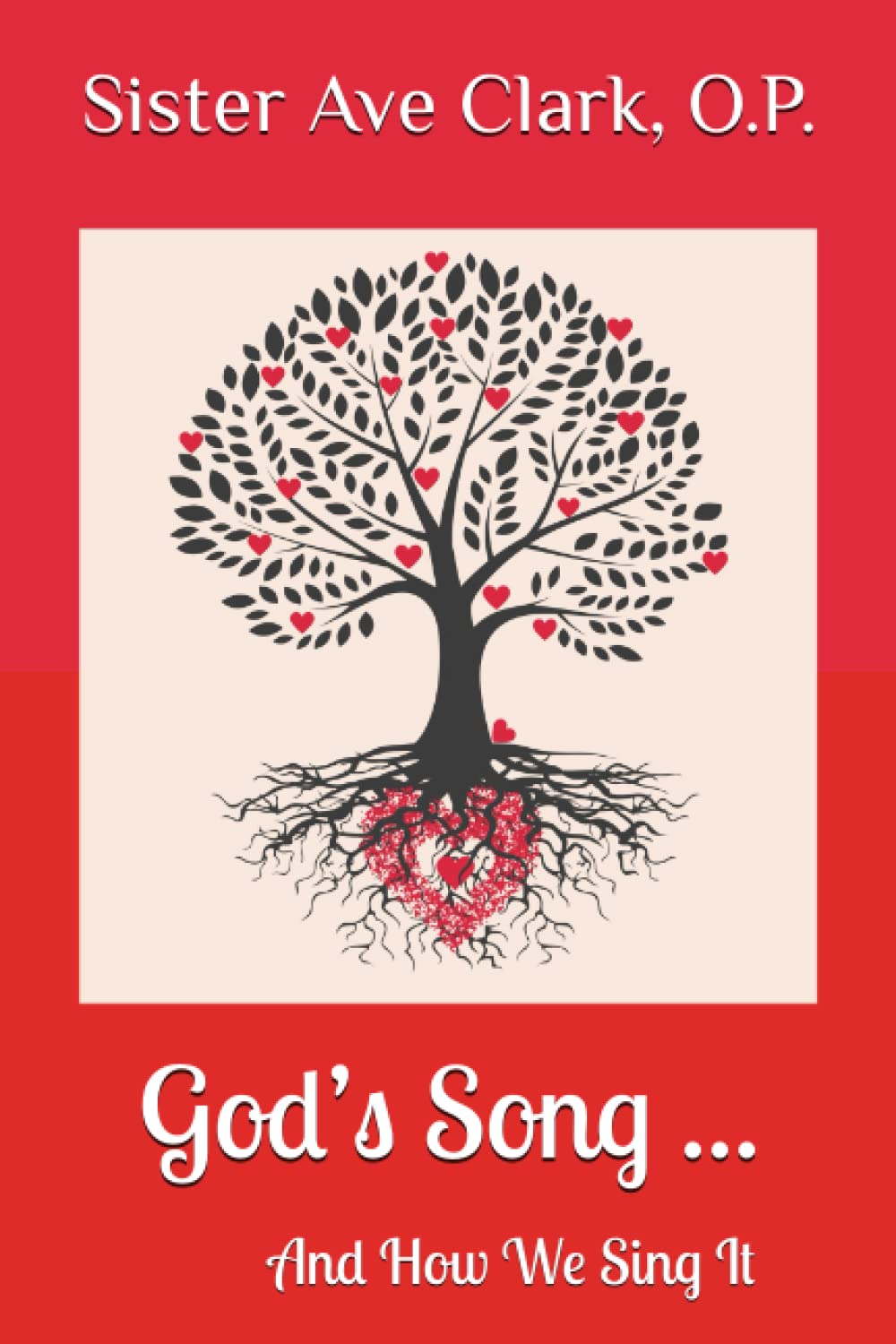 As you read and reflect on the message of a light on an angel wing you might just be inspired to share your light of faith in creative and loving ways and find that someone might just say to you "you are an angel". Imagine that holy thought!
Order directly from Author, instructions and mailing address above.
A Book of Holy Reflections by Sister Ave Clark, O.P., Joe and Peggy Clark
The authors hope that you weave your own spiritual threads that create a mosaic, a tapestry, a labyrinth…for a heart that yearns and dares to journey to a place of peace and compassion where all can be united as one.
We can do this "together".
And above all these put on love, which binds everything together in perfect harmony. And let the peace of Christ rule in your heart. – Colossians 3:14-16
Order directly from Author, instructions and mailing address above.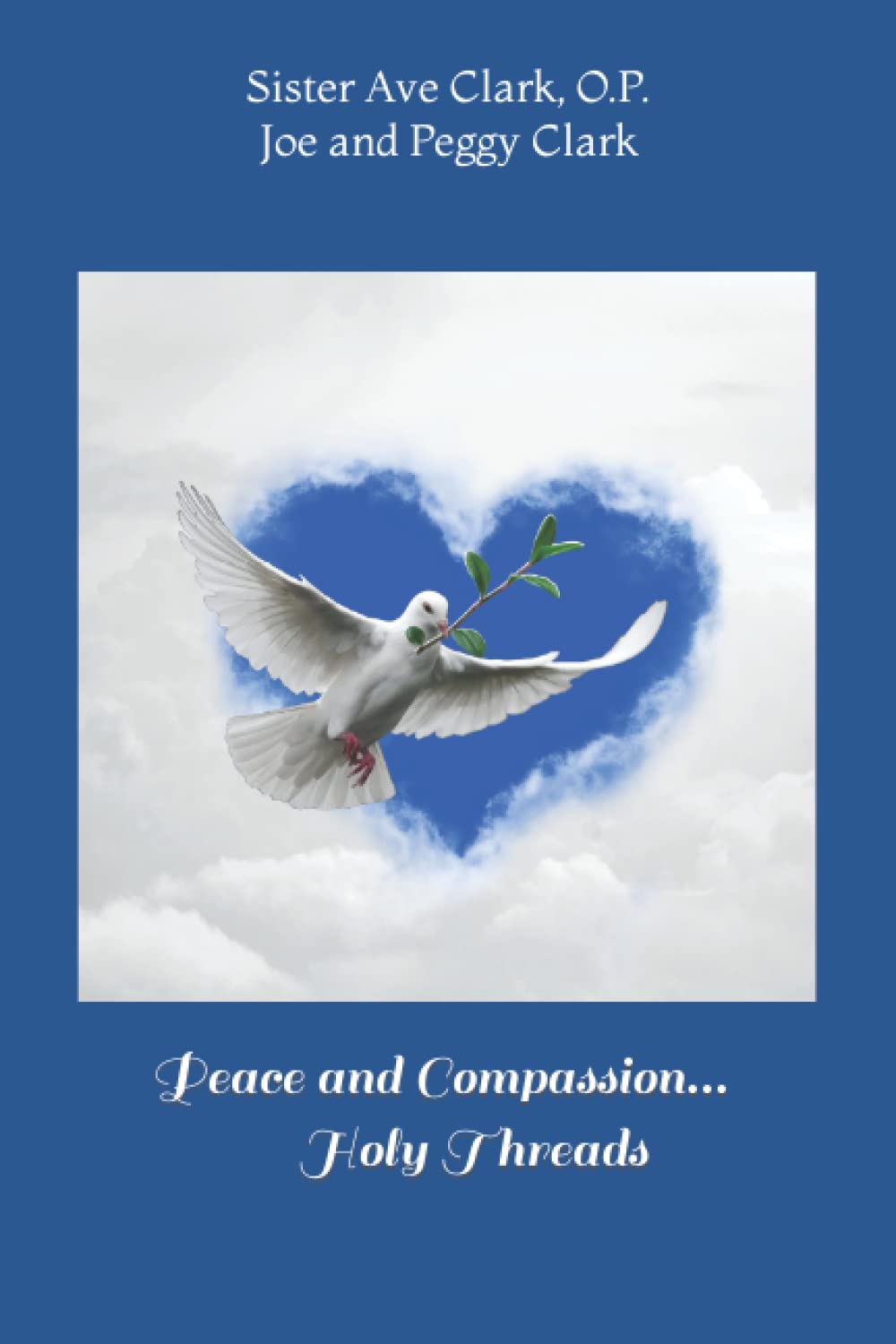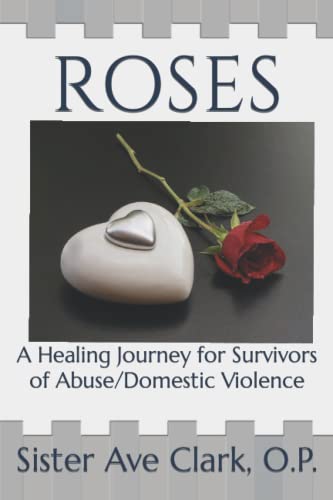 This book is a gift to the people of God especially those who need healing from abuse and domestic violence. Like a rose, survivors can bloom and arise to new life. Surviving can make you stronger, wiser and more hopeful; but most of all it can give you a compassionate heart to share with others. "I will give you a new heart and place a new spirit within you…" (Ezekiel 36:26)
Order directly from Author, instructions and mailing address above.
A Holy Invitation with Many Graces
Imagine Jesus sitting at your table enjoying your breakfast treats. You are thrilled to have Him as your guest. It is a wonderful time to "break bread" together. You feel His love and deep caring. You share about your life and concerns. You trust Jesus with your heart sharings.
Order directly from Author, instructions and mailing address above.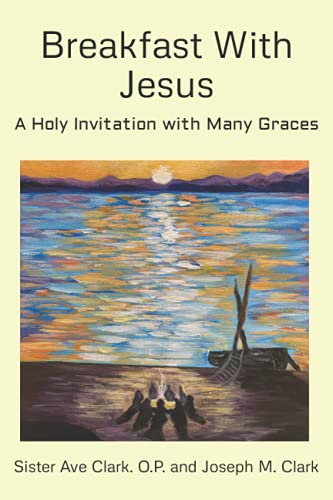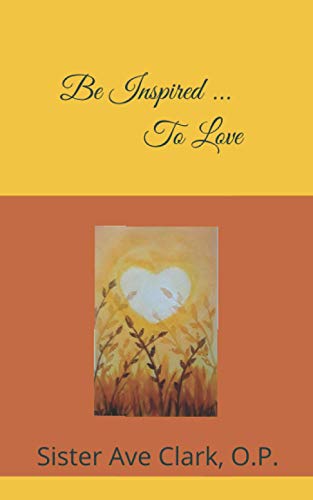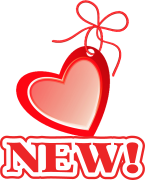 This is a book about "being inspired ….to love". It is a collection of thoughts and quotes from various people from all walks of life …as well as from a few saints who are no longer with us. It is my hope that as you read each one, you will be encouraged to reflect on how prayer and grace are at the heart of faithful living .
In doing so, I truly believe you will discover within yourself a "small light" of hope. The world needs many small lights to brighten the universe. We can do this heart to heart by inspiring one another…to love.
A Heart of Courage
… the Ordinary and Extraordinary Becoming Holy
Courage is a wonderful blessing. It is a noble way of living that encourages hope, compassion and justice. Courage is our heart in action..sharing peace respect, charity and great kindness. Courage also struggles at times to be a light in the darkness. In this book you will read, reflect and ponder the ordinary and extraordinary examples of being "holy courage" for and with one another. I hope you will see yourself as a heart of courage.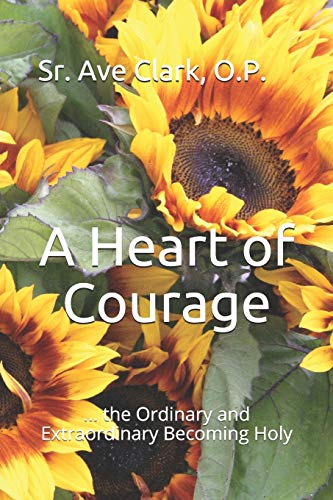 A Heart of Courage Reviews!
Ave Clark's "A Heart of Courage" is a simple yet powerful reminder of the importance of and need for goodness in our world today. It is the acts of courage that Ave Clark elaborates on that helps us to employ the ability to be simply good…and to spread that goodness.
The book, A Heart of Courage, was very real and pertinent. Sister Ave Clark's writing is very inspirational.
With A Heart of Courage S. Ave Clark encourages her readers to taste and see more clearly and deeply the gift of God's grace in everyday life, so to live life more abundantly. Deo Gracias!
Reading, reflecting on the wisdom of S. Ave Clark's "A Heart of Courage" summons a personal response to living with a deeper realization of the gift of "Life of Trust", of "Unconditional Love." How blessed we are in her ever-deepening "Heart-to-Heart" ministry. May S. Ave's response to our "calling" continue to be blessed with her presence with the Presence.
Once again Ave has written a beautiful book with words that come right from her heart. I was very moved by the section The Courage of Questions…especially "Why God"? In April a good friend died of Covid 19. I thought that asking that question was challenging my faith and trust in God. Ave gave me a whole new perspective and I am very grateful to her.
Sister Ave Clark's book, A Heart of Courage, was very inspirational. I enjoyed the reflection questions. They were very helpful. I also found the large print especially helpful.
Thank you Sister Ave for this wonderful gift…A Heart of Courage. I enjoyed reading it and I am motivated to make a positive impact in others' lives. You are a beacon of hope!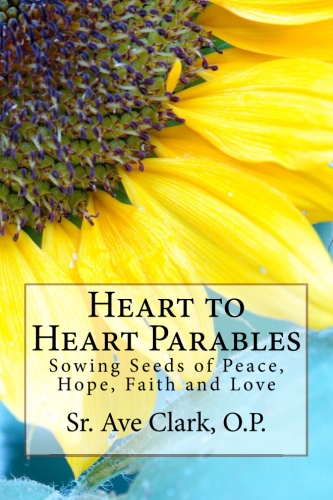 HEART TO HEART PARABLES
Sowing Seeds of Peace, Hope, Faith and Love
This book is about how Heart to Heart Parables gracefully invite you to smile, reflect and believe that everyday in the ordinary we can re-discover extra-ordinary ways of being signs of joy, hope and peace to and for one another.
Each parable shares an encounter of daily life that gently calls forth a spirit of giving, respecting and loving one another into life.  Perhaps after reading and reflecting on these "surprising" parables … you will write your own… and celebrate the best place a parable is born …in the heart.
Sr. Ave Clark was interviewed by Tony Rossi on his Christopher Close Up Radio show which aired in February, 2019.   Click HERE to read the commentary and listen to the interview about Heart to Heart Parables.
This book is a story about a man named Arthur who lived courageously with a mental illness. Far more than a story, it is the way Arthur chose to live his life that will offer you challenges, inspirations and opportunities to become more loving, peace-filled and joyous for and with one another. I hope as you read, reflect and ponder the stories, parables and words of Arthur's life, you will feel your heart and spirit uplifted. Perhaps you will even say: "Arthur, thank you for being Jesus' love."
Sr. Ave was interviewed by Tony Rossi about her book, "Arthur, Thank You for Being Jesus' Love", which aired on Christopher Close Up in December, 2017. Read the commentary and listen to her interview.
See who else is talking about Arthur: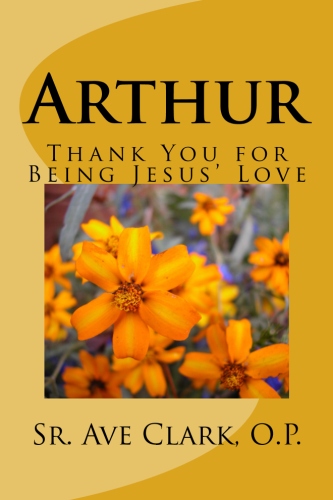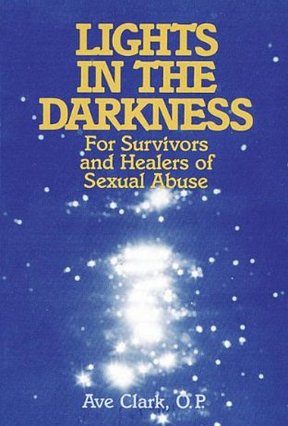 Lights in the Darkness is a book for valiant women and men who survived abuse to find healing and hope in their everyday lives. It is a book that gently encourages and offers survivors ways to find the wonderful light of compassion and joy in their lives.